Slip into shade
Shade is one of the key steps to being SunSmart to decrease your risk of getting skin cancer.
---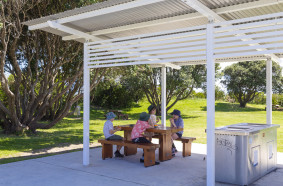 Shade is a practical, easy-to-access form of sun protection.
Shade can be:
natural (shadow from trees or nearby buildings)
built (verandahs, pergolas, shade sails, awnings)
portable (marquees, tents, gazebos).
Keep in mind that some shade structures will block more UV than others.
You can still get sunburnt in the shade, because of reflected UV radiation. For the best sun protection, use all the SunSmart steps - Slip, Slop, Slap, and Wrap.
For more information: